In a heartwarming ceremony held in Nottingham, Vicky McClure, the 40-year-old star of "Line of Duty," exchanged vows with her fiancé Jonny Owen. The newlyweds were graced with a serenade by the Dementia Choir, a vocal ensemble composed of individuals living with dementia, an initiative Vicky McClure herself had contributed to funding.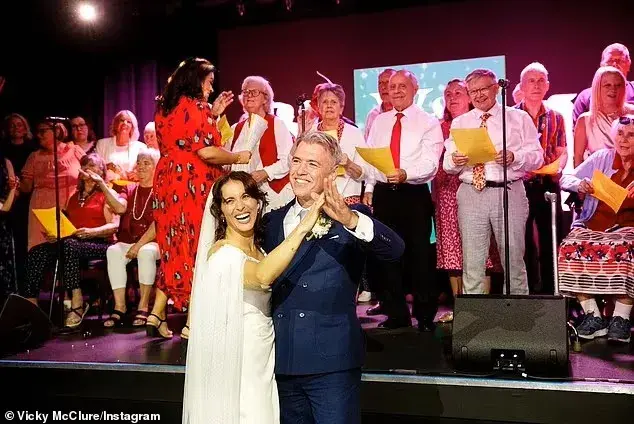 Among the guests present to celebrate the joyous occasion were Vicky McClure esteemed co-stars from "Line of Duty" – Martin Compston, Adrian Dunbar, and Craig Parkinson. Notable figures like football manager Rob Page, Everton manager Sean Dyche, and TV presenter Paddy McGuinness were also in attendance.
Vicky McClure radiated elegance in an off-the-shoulder gown adorned with a daring thigh-high leg slit, a vision of grace as she posed alongside Jonny for photographs after the ceremony. Her gown flowed gracefully, accentuated by a dramatic veil that trailed behind her, creating a stunning visual tableau beside her new husband.
With a bouquet of enchanting wildflowers in hand, Vicky McClure complemented her attire, while Jonny cut a dashing figure in a navy suit paired with a pale blue satin tie. Sharing her excitement on Instagram, Vicky declared, "Tied up in Notts!!! Best. Day. Ever!!!!!," announcing the momentous occasion to her followers, a journey that began with their engagement in December 2017.
A glimpse into the celebration captured a spirited moment as Vicky McClure and Jonny danced harmoniously while the Dementia Choir graced the stage at the Metronome venue in the city.
Vicky's involvement with the Dementia Choir extended beyond her wedding day. In 2019, she starred in a documentary series for BBC One, titled "The Dementia Choir," delving into the profound connection between music and dementia. The series showcased the transformative impact of music therapy on those living with dementia, as well as celebrating the personal stories of choir members.
The battle against dementia held a personal significance for Vicky, as she had previously shared the story of her grandmother Iris' struggle with the condition, which tragically culminated in her passing in 2015. In a testament to her commitment, the organization evolved into an officially registered charity by 2021.
Vicky and Jonny shared their marital news on Katie Owen's BBC Wales show, with Katie leaving the wedding early due to work commitments. Despite her absence, Vicky expressed pride in her daughter's dedication and shared the joyous details of their special day.
Vicky and Jonny's love story began during the filming of "Svengali" in 2012, a movie written by Jonny himself. Their connection was instantaneous, with Vicky expressing that she fell in love before even meeting Jonny in person. The couple's shared memories of their early days painted a picture of serendipity, with both recalling the moment when their feelings quickly transformed from liking to loving.
In a charming anecdote, Vicky revealed that Jonny's proposal had a humorous twist. In 2021, she disclosed how Jonny had left her engagement ring in a pub while he was inebriated, leading to an amusing escapade involving a forgetful barman and a tram ride to retrieve the misplaced ring.
As Vicky and Jonny embarked on this new chapter of their lives, their journey to marriage remained as enchanting and unique as their enduring love story.